Low pressure was created in Arabian Sea and now it has been convert in to big cyclone. It would move initially north and northwest side in the next 48 hours as the sources said. Then it may move north-east towards north Gujarat and adjoining Pakistan coast during subsequent 72 hours. It may intensify further into a severe cyclonic storm during next 24 hours. But, situation will be more clear in next 24 hours. Recently Hudhud has hit various coastal area of Orissa and most of the Andhra pradesh. Now another cyclone Nilofar is likely to hit Gujarat's coastal area, it may hit the north Gujarat area Kutch district. There are several factors, which will determine the exact track/path of Nilofar.
Cyclonic storm Nilofar's lay center at 11:30 hours IST on 26 th October 2014, near latitude 14.10 North and longitude 62.00 East, about 1270 km west-southwest of Mumbai and 910 km east-southeast of Salalah (Oman). The Depression over West Central Arabian Sea has organized further into a Deep Depression strength. This is yet to be confirmed by IMD. News says Nilofer cyclone direction in Gujarat, India. Nilofar cyclone Gujarat map. Nilofar cyclone in arabian sea, nilofar cyclone near mumbai coast is on Alert.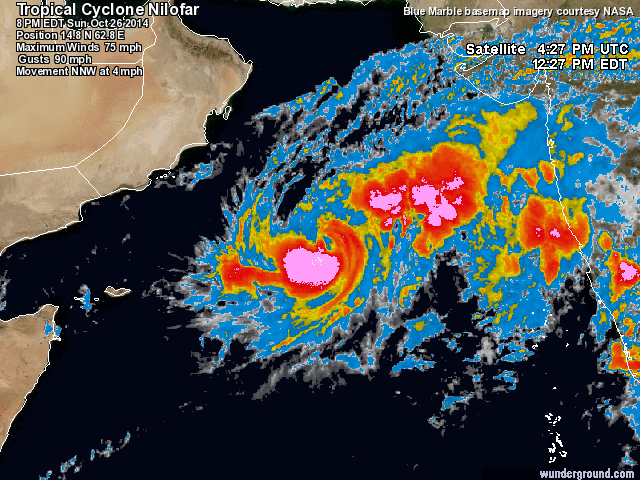 Watch Satellite Images of Nilofar Cyclone Here: http://www.imd.gov.in/section/satmet/dynamic/insatsector-ir.htm
Check Latest track/position of Nilofar Cyclone Here : http://www.rsmcnewdelhi.imd.gov.in/index.php?lang=en
Check here Nilofar Cyclone Update and prediction of next 5 days: http://www.wunderground.com/wundermap/?lat=14.2&lon=62.9&zoom=6&rad=0&wxsn=0&svr=0&cams=0&sat=0&riv=0&mm=0&hur=1&hur.wr=0&hur.cod=1&hur.fx=1&hur.obs=1&fire=0&ft=0&sl=0
Latest Bulletin from IMD: http://rsmcnewdelhi.imd.gov.in/images/cyclone_pdfs/indian_1414331982.pdf
Read this News By IMD: http://rsmcnewdelhi.imd.gov.in/images/bulletin/indian.pdf
For IVRS Weather Information Dial Toll Free Number: 1800 180 1717.
Caution: Please refer/rely on IMD/RSMC Bulletins/Advisories for Storms & Weather related matter. Please check TV/Radio News for more Updates.